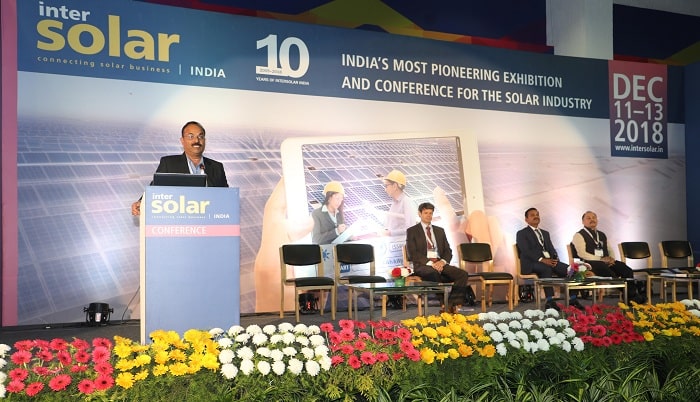 The smarter E India, the innovation hub for empowering new energy solutions, forms an umbrella for events and topics that drive the new energy world and will welcome an expected 10,000 attendees to Bangalore's International Exhibition Centre from November 27-29, 2019. Located in the heart of the India's number one renewable energy market, it is the ideal place to celebrate the debut of the exhibition trio Intersolar, ees and Power2Drive at The smarter E India.
Digitalization and decentralization are changing the face of the energy world for good, and the steady rise in electricity from volatile and renewable sources requires new concepts and solutions for generating, storing, distributing and using energy efficiently. At this year's event, national and international key companies of the solar, energy storage and e-Mobility sector present and showcase solutions for the new energy world and tailored for the Indian renewable energy market. Attendees will gain early access to some of the most innovative technologies being launched onto the market from across the industry value chain. The co-located Intersolar India Conference and the 1st Power2Drive Conference will feature over 150 influential speakers who will share their insights into market dynamics and opportunities for growth in 2019 and beyond.
Opening Ceremony will kick off The smarter E India 2019
The official Opening Ceremony of the first edition of The smarter E India will kick off November 27 at the BIEC Conference Centre at 10:00am at the conference area. It comprised keynote speeches of government officials and solar experts. The Sapling Planting Ceremony welcomes Mr. B. S. Yediyurappa, Honourable Chief Minister, Govt of Karnataka (Invited), Mr. Upendra Tripathy (IAS), Director General, International Solar Alliance, Mr. Mahendra Jain (IAS), Additional Chief Secretary to Govt, Govt of Karnataka, Mr. Ajay Mishra (IAS), Spl. Chief Secretary to Govt, Govt of Telangana, Mrs. Gunjan Krishna (IAS), Commissioner for Industrial Development & Director of Industries & Commerce, Mr. A.B. Basavaraju (KAS), Managing Director, Karnataka Renewable Energy Development Ltd., Dr. Praveen Saxena, Chief Operating Officer, Skill Council for Green Jobs, Mr. Ramesh Shivanna, President, Karnataka Renewable Energy Systems Manufacturers Association, Mr. Bhupinder Singh, CEO, Messe Muenchen India, Dr. Florian Wessendorf, Managing Director, Solar Promotion International GmbH and Mr. Daniel Strowitzki, CEO, Freiburg Management & Marketing International GmbH. Afterwards, 800 conference delegates are expected to attend the more than 30 conference sessions and workshops, exhibitor and expert presentations on the Innovation & Application Stage and numerous other networking
opportunities that connect leaders in the solar, storage, e-mobility and smart renewable energy industries in the course of three days of exhibition and conference program.
Mercom India's White Paper release at Intersolar India 2019
Mercom and Intersolar India 2019 have joined forces to provide in-depth insights about the market drivers and challenges facing the Indian solar market in 2019 and beyond. Cumulative solar installations reached ~33.8 GW by the end of Q3 2019 with large-scale solar projects accounting for 88% and rooftop solar making up the remaining 12%. Mercom India Research forecasts India to install over 8 GW of solar capacity in the calendar year 2019. Attendees and exhibitors are welcome to find out more in the White Paper: India Solar Market 2019 – An Overview, which will be released at Intersolar India 2019 on November 27 and will be made available free of charge on www.thesmartere.in.
Free Expert Presentations at the Innovation & Application Stage
At the exhibition stage Innovation & Application Stage (Stand A100) free workshops and presentations will be held by exhibitors and knowledge partners like the 3rd ARE Mirco-Grid Workshop, AGNIi's Innovation Showcase, Skill Council for Green Jobs' (SCGJ) Awards Ceremony and the workshop Business and Investment Opportunities in Solar Pumping Sector organized by The Energy and Resources Institute TERI & SCGJ.
For more information and program details, please visit: www.thesmartere.in.
About The smarter E India
With three parallel energy exhibitions, The smarter E India is India's innovation hub for the new energy world. It presents cross-sector energy solutions and technologies and reflects the interaction of the solar, energy storage and electric mobility industries. The smarter E India addresses all the key areas along the value chain and brings together local experts and international stakeholders in the energy future. Starting in 2019, The smarter E India will bring together the renowned Intersolar India, ees India and Power2Drive India. The exhibition trio will take place at the Bangalore International Exhibition Centre in the capital state of Karnataka on November 27-29, 2019.
For more information on The smarter E India, please visit: https://www.thesmartere.in/
Organizers: The event's local organizer is MM India Pvt. Ltd. and its international contacts are Solar Promotion International GmbH, Pforzheim, Germany and Freiburg Management and Marketing International GmbH (FMMI), Germany.