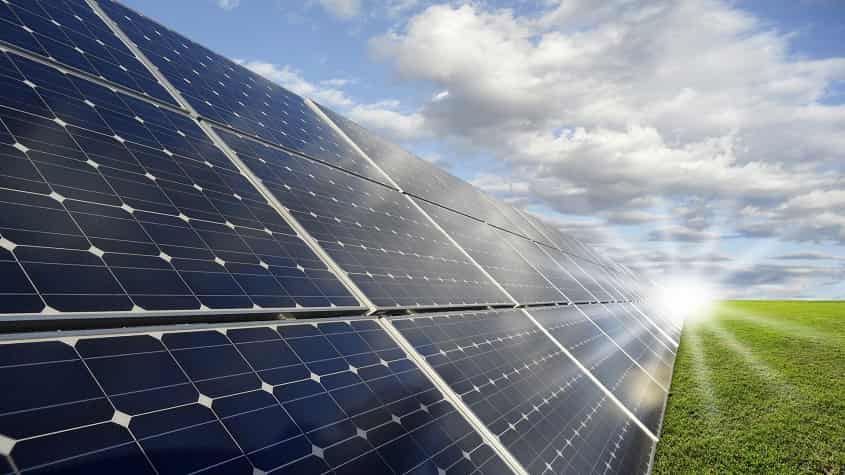 EnSync, Inc , dba EnSync Energy Systems, a leading developer of innovative distributed energy resources (DERs), and DCfusion, a pioneer in direct current (DC) system engineering design, consulting and policy, have designed and will manage the Smart Energy Microgrid Marketplace on-site microgrid demonstration system.
The design leverages EnSync Energy's Matrix® Energy Management system and DER Flex™ Internet of Energy software – creating a microgrid that will power the Smart Energy Microgrid Marketplace area at Solar Power International (SPI), one of North America's biggest solar trade conferences. DCfusion is engineering the solar-powered microgrid, while EnSync Energy's technologies will serve as its command and control center. The Smart Energy Microgrid Marketplace will also provide connections for companies to demonstrate their technologies working in real time – including energy storage batteries, hydrogen fuel cells and more. EnSync Energy's command center, utilizing EnSync DER Flex technology, will gather data and determine which power sources to prioritize and ensure the loads are supplied with the most reliable and cost-effective energy. The Marketplace's lead organizer is the EMerge Alliance, an open industry association leading the adoption of DC power distribution in commercial buildings through the development of EMerge Alliance standards. DCfusion is an active member.
"Our technologies serve to synchronize DERs in conjunction with dynamic load requirements, ensuring resiliency and real-time prioritization of the highest-value energy asset," said Dan Nordloh, executive vice president of EnSync Energy. "The microgrid not only showcases the range of cleantech companies working to advance solar, but it also provides a vision for the next generation grid, in which decentralized resources are aggregated to provide grid services that benefit all energy stakeholders," he said.
By transmitting DC electricity, the microgrid will reduce energy losses incurred from converting from alternating current (AC) to DC, which is how electricity is typically distributed to businesses and residences. DC microgrids are also ideal for integrating solar power, energy storage and other renewables, as these energy sources are largely smaller-scale and often natively generate DC current.
"In designing this microgrid, our goal is to show how effective a DC infrastructure is in reliably managing and transmitting electricity while minimizing energy loss," said David Geary, co-founder and principal engineer of DCfusion. "As electricity consumption shifts to a portfolio comprised of more renewables, the need for DC-based and hybrid DC-AC system design becomes increasingly critical. DC infrastructure is the invisible foundation of a clean energy future – no one talks about it, but it's crucial to continuing the acceleration of solar and renewables deployment."
The Smart Energy Microgrid Marketplace will be located in the Smart Energy Hall at Solar Power International on September 10 through 13 in Las Vegas. EnSync Energy's Matrix Energy Management platform and DER Flex software system will work together to manage the flow of power to multiple technologies that will be connected to it. The microgrid is composed of an on-site utility power source, energy storage and a live PV array located in the Convention Center parking lot. The system output will feed a DC busbar to conduct and transmit electricity to loads within the Marketplace area.
About EnSync Energy Systems
EnSync, Inc. , dba EnSync Energy Systems , is creating the future of electricity with innovative distributed energy resource (DER) systems and internet of energy (IOE) control platforms. EnSync Energy ensures the most cost-effective and resilient electricity, delivered from an electrical infrastructure that prioritizes the use of all available resources, such as renewables, energy storage and the utility grid. As project developer, EnSync Energy's distinctive engagement methodology encompasses load analysis, system design consulting, and technical and financial modeling to ensure energy systems are sized and optimized to meet our customers' objectives for value and performance. Proprietary direct current (DC) power control hardware, energy management software, and extensive experience with numerous energy storage technologies uniquely positions EnSync Energy to deliver fully integrated systems that provide for efficient design, procurement, commissioning, and ongoing operation. EnSync Energy's IOE control platform adapts easily to ever-changing generation and load variables, as well as changes in utility prices and programs, ensuring the means to make or save money behind-the-meter, while concurrently providing utilities the opportunity to use DERs for an array of grid enhancing services.
In addition to direct system sales, EnSync Energy includes power purchase agreements (PPAs) in its portfolio of offerings, which enables electricity savings for customers and provides a stable financial yield for investors. EnSync Energy is a global corporation, with joint venture Meineng Energy in AnHui, China, and energy project development subsidiary Holu Energy LLC in Hawaii, and DCfusion LLC, a power system engineering and design, consultancy and policy firm.
Media Relations Contact:
Antenna
Shreema Mehta
ensync@antennagroup.com
(646) 416-9853
EnSync Energy Company Contact:
Michelle Montague
mmontague@ensync.com
(262) 735-5676
Investor Relations Contact:
Lytham Partners, LLC
Robert Blum,
Joseph Diaz, or
Joe Dorame
(602) 889-9700