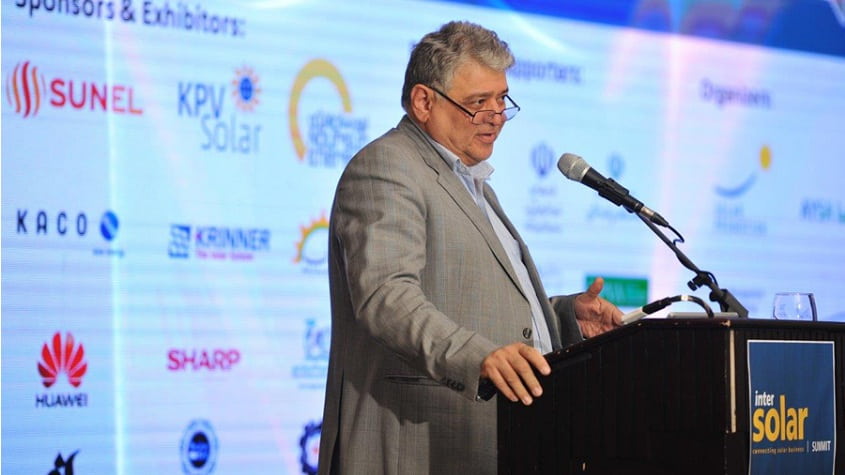 Dr. Seyed Mohammad Sadeghzadeh, Deputy Minister and Head of Renewable Energy and Energy Efficiency Organization (SATBA) welcomed 505 attendees at the second Intersolar Summit in Tehran, Iran.
In his keynote, he emphasized the importance of the private sector and reliable Feed-In-Tariffs. If the community understands the advantages of renewables and the procedure of FiT, people can influence the government and authorities to keep structures reliable and reasonable
300 MW renewable energies are constructed already, and further 800 MW are under construction phase. In the minister's opinion, renewables will become competitive with traditional energy sources soon. The plan is to install 1,000 MW renewables every year.
Markus Elsässer, founder of the Intersolar global exhibition series emphasized the progress in reducing costs of solar power in the last years which led to 71 GW of global capacity additions in 2016. In his welcome speech the importance of renewable energies – especially for the employment. In 2015 already, IRENA counted 2.8 mio. people employed in the sector of renewable energies. Dr. Sadeghzadeh confirmed that in Iran, 15,000 people are already employed in the RE sector, and 100,000-200,000 more are possible within the next years.
In the morning session, Dr. Amiri Khamakani, Member of the Parliament, Ahmad Firoozi, Vice Presidency for Science and Technology, Energy Department, Hamidreza Salehi, Energy Commission of the Iran Chamber of Commerce, and J.Mohammad Nedjad, Deputy for Planning, (SATBA) discussed proper policies to develop renewable energy in Iran.
Dr. Ahmad Khonsari, Partner, Watson Farley & Williams Legal Firm, Mohammad Rahmani, CEO, Bayan Emrooz Law Firm, and M.T. Zafranchi Zadeh, Head of Private Sector Office, (SATBA), and Behnam Khatami, Partner, Sabeti & Khatami Legal Firm explained legal challenges and regulatory frameworks for domestic and international solar players. Some articles in the SATBA PPA including assignment and step-in rights, and termination right are still not clearly defined. Iran has made a huge progress from 2016 to 2017, but some challenges remain, as liability, securing state land and farm and finance.
"Cash is King", stated Günter Grabner, Managing Director, KPV Solar. "The key for international Investors is to establish a reliable way of monetary transactions". Together with Asghar Fakhrieh Kashan, Deputy in International and Investment Affairs, Ministry of Roads & Urban Development, Alireza Saedi Sarkhanloo, Member of Executive Board, Vice President of Foreign Investment, National Development Fund of Islamic Republic of Iran, and Mostafa Beheshti Rouy, Member of Executive Board, Bank Pasargad, he explained the difficulties of financing PV projects in Iran.
70 international attendees and 435 Iranian participants followed lively discussion rounds and a very crowed exhibition with 21 tables top booths. 15 sponsors and 17 supporters and partners made the second Intersolar Summit in Iran a very fruitful event. Companies as SUNEL, Noursun Energy, Kaco and Krinner were in the focus of interest of attendees. Networking, getting-first-hand information, and evaluation for a market entry, were the most often mentioned reasons of participation.
Mohammad H. Ghafouri, CEO of Aysa Ltd. and local partner of Intersolar concludes satisfied: "The Intersolar Summit Iran is a good opportunity to network, but also to show the government the importance to solve existing challenges. Since SATBA's foundation last year, and the demonstration of the necessity to prepare a grid code for renewables at last' year's Intersolar grid connection panel, a new movement has been started in SATBA. The first steps of the grid code development were presented at this year's summit."
For more information see: www.intersolar-summit.com/Iran

Information about the Intersolar Summit Iran Organizers: The Intersolar Summit Iran is organized by Solar Promotion International GmbH and Freiburg Management and Marketing International GmbH. The local partner is AYSA Energy Ltd, the company which is active in developing PV and wind power plants.
The Intersolar Summit Iran is officially supported by the Diamond Sponsors SUNEL Group, KPV Solar and Noursun Energy. Further Sponsors and Exhibitors at www.intersolar-summit.com/iran
Strategic partner of the Intersolar Summit Iran is EuPD Research. Local organizer is Aysa Ltd. Other supporters include the British Photovoltaic Association, Joint Forces for Solar and the International Battery & Energy Storage Alliance (IBESA).
Intersolar Summit contacts: Solar Promotion International GmbH
P.O. Box 100 170
75101 Pforzheim, Germany Tina Engelhard
Head of Business Development
Tel: +49 7231 58598-207 
About Intersolar
With events spanning four continents, Intersolar is the world's leading exhibition series for the solar industry and its partners. It unites people and companies from around the world with the aim of increasing the share of solar power in our energy supply. Intersolar is inspired by the guiding principle: Connecting Solar Business. The exhibition and conference series focuses on the areas of photovoltaics, PV production technologies, energy storage systems and solar thermal technologies. Since being founded, Intersolar has become the most important industry platform for manufacturers, suppliers, distributors, service providers and partners in the global solar industry. With more than 25 years of experience, Intersolar has the unique ability to bring together members of the solar industry from across the world's most influential markets. Intersolar exhibitions and conferences are held in Munich, San Francisco, Mumbai, São Paulo and Dubai. These global events are complemented by the Intersolar Summits, which take place in emerging and growing markets worldwide. For more information on Intersolar, please visit: www.intersolarglobal.com