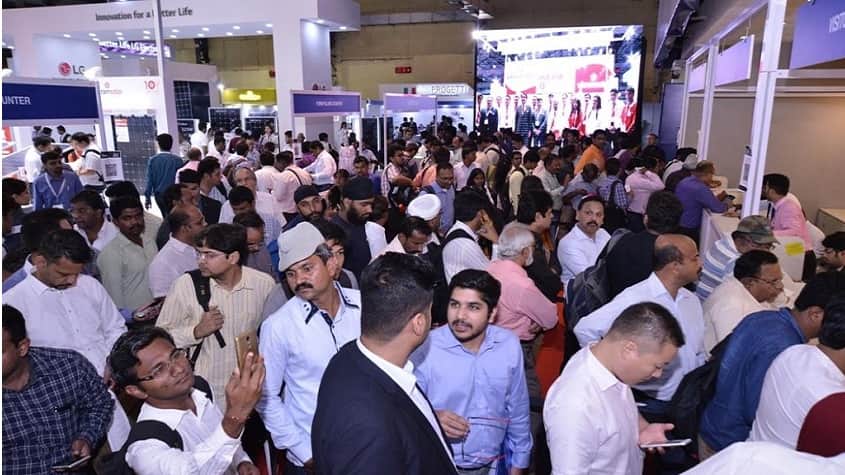 Intersolar India Exhibition and Conference will open its doors in less than a week on December 5 -7, 2017 at the Bombay Exhibition Centre (BEC) in Mumbai, providing a platform for all industry professionals to meet, exchange, discuss challenges and solutions and promote the interest of the solar industry.
In this year's event, certified by the U.S. Commercial Services, more than 12,000 international visitors are expected. More than 260 exhibitors are showcasing their latest products and solutions in Hall 1 of the BEC. From special forums to workshops and an extensive conference, this year's show will be powered by the tremendous energy generated by special activities. The Intersolar Conference program is packed with exciting and diversified topics.
More than 500 conference delegates can expect sessions on the Indian PV market, PV manufacturing, rooftop systems, project financing, innovative technologies, PV quality assurance, agro-PV, floating PV, Smart Renewable Energy topics like electrical energy storage, mini-/micro grid and e-mobility and many more at the Intersolar India Exhibition and Conference Program.
India is at the vanguard of the world's rapid transformation to smart energy. The Ministry of New and Renewable Energy is driving clean energy at an unprecedented rate, while India's energy consumption is set to double over the next 6-7 years. The Government of India has set itself a highly ambitious task of having installed 175 GW of green energy by 2022. The target includes 60 GW from wind and 100 GW from solar, whereas the latter is split into 60 GW ground-mounted and 40 GW of rooftop.
Special Exhibitions on Electrical Energy Storage and Power2Drive Between 2016 and 2030 the global electrical energy storage (ees) market is forecasted to double six
times in total according to Bloomberg New Energy Finance. During this time more than 103 billion USDs are projected to flow into the sector and more than 125 GW of total capacity is going to be installed. USA, Japan and India will install 50% of the predicted energy storage systems by 2030.
Around 50 companies with electrical energy storage solutions will show their latest technology at Intersolar India. ees is dedicated to renewable energy storage solutions, from residential and commercial applications to large-scale storage systems to stabilize the grid. Attendees of the Intersolar India Conference will get insights from policymakers, utilities and battery companies on lessons learnt in the field of electrical energy storage integration and how this field has grown in other countries, sharing their views on how to steer developments in India more actively.
E-Mobility is an evolving industry in India. As early as 2013, the Government launched the National Electric Mobility Mission Plan to achieve 7 million vehicles by 2020. This was followed by the Government's notification of the Scheme Faster Adoption and Manufacturing of (Hybrid &) Electric Vehicles in India for implementation from 1st April 2015.
But the real big announcement came in April this year, when Shri. Piyush Goyal, Minister for Power & Renewable Energy, said that India would only sell electric vehicles by 2030. Closely following this, the state owned Energy Efficiency Services Ltd floated a tender for 10,000 EVs. Under Phase 1, tender for 1000 vehicles for use by the Government, was floated. Tata Motors and Mahindra & Mahendra won the contract. A second tender for 20,000 will be floated in early 2018. Simultaneously tenders for 4,000 Chargers are also being floated. These fast moves have sowed the seeds for an exciting EV transition in India.
At the Intersolar India Conference session on E-Mobility, experts of this emerging technology will share information on the latest market, technical and policy developments. Electric mobility and energy storage systems of the high power segment being used in the automotive sector – will also enormously help in bringing down the concerns around large scale integration of RE to the power grid.
Networking, Forums, Trainings and Workshops
A two day Intensive PV Technical Training course is co-located with the conference. This would be conducted by Mr. Sean White, Professor & IREC Certified Master Trainer from White House Solar, USA.The course will cover basics of electricity and PV technologies, different types of PV systems, EPC contracting and safe installation practices with hands-on PV system demonstration. Attendees will be provided with course material and receive a White House Solar Certification at the end of the course.
Further forums, workshops and networking events complement the Intersolar India Exhibition and Conference Program this year. The off-grid workshop organized by the Alliance for Rural Electrification (ARE) will focus on current markets and policies, business opportunities, cross-sector cooperation,standards and showcase financial and technical instruments supporting rural electrification projects in India and South Asia.
The Forum on Green Jobs, organized by the Skill Council for Green Jobs (under the Ministry of Skill Development and Entrepreneurship) will address issues around talent acquisition and manpower management. Well trained and skilled manpower is crucial for achieving the ambitious 175 GW renewable energy goal. Skill Council for Green Jobs (SCGJ) has been created as part of "Skill India Mission".
The networking reception "Solar Power Developers Night" scheduled at the end of conference sessions on the first day will provide the exhibitors, conference delegates, speakers and visitors, opportunities to network in a relaxed atmosphere while enjoying drinks and finger food.In a nutshell – an exciting three days of solar festivities and celebrations awaits you at Intersolar India. Make sure you are there.For more information and program details, please visit Intersolar India's website: www.intersolar.in
About Intersolar
With events spanning four continents, Intersolar is the world's leading exhibition series for the solar industry and its partners. It unites people and companies from around the world with the aim of increasing the share of solar power in our energy supply.Intersolar India is the country's largest exhibition and conference for the solar industry. It takes place annually at the Bombay Exhibition Centre (BEC) in Mumbai.
The event's exhibition and conference both focus on the areas of photovoltaics, PV production technologies, energy storage systems and solar thermal technologies. Since being founded, Intersolar has become the most important industry platform for manufacturers, suppliers, distributors, service providers and partners in the global solar
industry.
In 2016, 235 international exhibitors and around 12,000 visitors attended Intersolar India. Over 100 distinguished speakers and more than 800 attendees discussed current industry topics and shed light on the conditions surrounding technological, market and political developments at the accompanying conference.With more than 25 years of experience, Intersolar has the unique ability to bring together members of the solar industry from across the world's most influential markets. Intersolar exhibitions and conferences are held in Munich, San Francisco, Mumbai, São Paulo, and Dubai. These global events are complemented by the Intersolar Summits, which take place in emerging and growing markets worldwide.
For more information on Intersolar India, please visit: www.intersolar.in
Organizers: The event's local organizer is MMI India Pvt. Ltd. and its international contacts are Solar Promotion
International GmbH, Pforzheim and Freiburg Management and Marketing International GmbH (FMMI).
Contact
In India: Mr. Brijesh Nair, MMI India Pvt. Ltd.,
Tel.: +91 22 4255 4707, brijesh.nair@mmi-india.in
Outside India: Ludmilla Feth, Solar Promotion International GmbH,
Tel.: +49 7231 58598-0, feth@solarpromotion.com