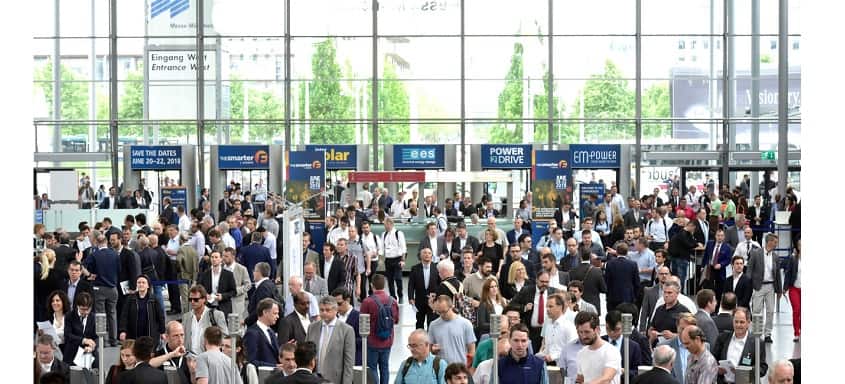 ees Europe, Europe's largest and most visited exhibition for batteries and energy storage systems, is opening its doors in Munich today to visitors from all over the world.
This year's exhibition focuses on large-scale storage systems and grid integration, as well as on e-mobility and global storage system markets.Another central topic is the optimization of self-consumption in private homes and commercial buildings, in other words how buildings can best use the electricity generated on their roofs. Until June 2, the leading exhibition provides an ideal platform for manufacturers and suppliers to share knowledge. It is being held in parallel with Intersolar Europe, the world's leading exhibition for the solar industry and its partners.
Dedicated to innovations and trends in the storage of renewable energies, ees Europe can look back on a dynamic history: It began in 2014 with 48 exhibitors and 2,100 square meters of exhibition space. In 2016, a whopping 212 exhibitors presented their innovations across 12,500 square meters. And the success story continues. In 2017, 251 international companies are exhibiting at ees Europe, occupying 17,500 square meters of exhibition space – this represents 40 percent growth over the previous year. Around 430 of the roughly 1,100 exhibitors at ees Europe and Intersolar Europe are presenting energy storage technology.
The reason for this success is the rapid market development, which is driven by falling energy storage prices. Over the past three years alone, the costs of solar storage systems – in particular lithium-based systems – have plummeted by more than 40%. EuPD Research expects the market volume for PV storage systems in Europe to reach an annual volume of 552 million euros by 2020, of which over 300 million euros are expected to be generated in Germany. Many companies have recognized the potential of the storage device market, and have chosen to begin offering storage systems. Germany alone has almost 60 suppliers.
Hot topic: E-mobility
The energy storage industry is becoming increasingly attractive for other industry sectors.Alongside traditional battery and storage system manufacturers, large automotive companies are now setting up production facilities for batteries. Electric vehicles fueled by electricity from renewable sources represent the climate-friendly mobility solution of the future, and increasingly powerful batteries are becoming more and more important storage resources. The topics of emobility and mobile storage systems are among the most important trends at this year's ees Europe. The new mobile applications are also serving to expand the market, which until recently was dominated by stationary storage systems.
The ees Forum and the ees Europe Conference
The ees Forum (hall B1, booth B1.151) is also taking up the hot topic of e-mobility on June 1. Many keynote speeches and case studies illustrate the development of high-performance batteries, emobility as well as storage components and infrastructure. Presentations and discussions from international specialists shed light on the most important markets and practical experiences in the production, sales, installation and application of batteries and energy storage systems.
For even deeper insights into the trends, there is the ees Europe Conference at ICM –Internationales Congress Center München. The conference kicked off on May 30, with a number of sessions dedicated to the most pressing questions for all sectors of the energy storage industry.
The two-day conference focuses on storage systems for household, commercial and industrial applications, energy management, and the political framework conditions for the future of Germany's energy supply. The conference agenda also includes e-mobility. The ees Europe Conference is the ideal place to meet other industry experts. It is taking place in parallel with the conference accompanying Intersolar Europe, the world's leading exhibition for the solar industry and its partners. Here, attendees discuss the future of solar and renewable energy.
The ees AWARD
The ees AWARD is among the most important prizes for the energy storage industry and honors pioneering developments and innovations. This year's many international submissions included projects for the integration of renewable energies into the grid, increased efficiency and durability of lithium-ion batteries, and the step towards megawatt output. The winners have been selected and will be announced at the Innovation and Application Forum (hall A4, booth A4.530) from 5:00pm on May 31, 2017.
ees Europe 2017 will take place alongside Intersolar Europe from May 31 –June 2 at Messe München.
Further information on ees Europe 2017 can be found at www.ees-europe.com
Partners of ees Europe
ees Europe is partnered with BSW-Solar (German Solar Association), EUROBAT (Association of European Automotive and Industrial Battery Manufacturers), Naatbatt (National Alliance for Advanced Technology Batteries), and ZVEI (German Electrical and Electronic Manufacturers' Association).
About ees
With ees Europe in Munich, ees North America in San Francisco, ees South America in Sao Paolo and ees India in Mumbai, ees is represented on four continents. It serves as the industry platform for manufacturers,distributors, users and suppliers of stationary and mobile storage solutions for electrical energy. The ees exhibitions and accompanying ees conferences are co-organized with Intersolar, the leading exhibition for the solar industry, and center on renewable energy storage solutions, from residential and commercial applications to large-scale storage systems for stabilizing the grid. Other focal points are products and solutions for smart renewable energy, energy management, e-mobility and uninterruptible power supply.
ees Europe is the continent's largest exhibition with the greatest number of visitors for the battery and energy storage systems. More than 430 energy storage exhibitors (including the energy storage exhibitors at Intersolar Europe) and over 40,000 visitors from 160 countries are expected at ees Europe 2017.
For more information on ees Europe, please visit: www.ees-europe.com
ees Europe is organized by Solar Promotion GmbH, Pforzheim and Freiburg Wirtschaft Touristik und Messe GmbH & Co. KG (FWTM).
Contact:
Solar Promotion GmbH
P.O. Box 100 170
75101 Pforzheim, Germany
Horst Dufner
Tel.: +49 7231 58598-0
Fax: +49 7231 58598-28
dufner@solarpromotion.com
Press contact:
fischerAppelt, relations
Otl-Aicher-Straße 64
80797 Munich, Germany
Robert Schwarzenböck
Tel.: +49 89 747466-23
Fax.: +49 89 747466-66
rs@fischerAppelt.de