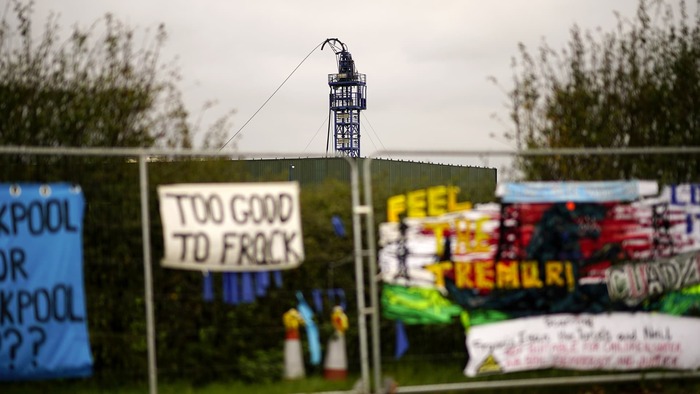 Following Russia's invasion of Ukraine, the U.K. government removed its ban on fracking on September 22nd, claiming the need to expand domestic energy supply. Ending the moratorium on mining the U.K.'s vast reserves of shale may see gas flowing in as little as 6 months where there is local support, said new Prime Minister Liz Truss in her first major speech on September 8.
The only active fracking site in the U.K., in the English county of Lancashire, experienced a series of tremors until an earthquake measuring magnitude 2.9 was finally recorded there. This resulted in the moratorium being introduced in November 2019. In order to extract oil or, in the case of the UK, gas from shale formations, fracking, also known as hydraulic fracturing, enlarges earth fractures using a high-pressure injection of water, chemicals, and sand. Locals voiced strong opposition to the link because over 200 people reported home damage from the earthquake.
A government report from 2019 found that a ban on the practise was required because it was not presently possible to predict the possibility or magnitude of earthquakes linked to fracking operations. However, anything under magnitude 3 is considered a small earthquake and is generally common.
But Truss and Jacob Rees-Mogg, her new business and energy chief, claim that fracking will be essential to turning Britain into an energy exporter by 2040. Along with expanding the use of hydrogen, solar power, and offshore wind, they also want to boost North Sea oil and gas output. On September 22nd, they announced a new round of oil and gas exploration licencing.
Divided Viewpoints
According to an estimate by Cuadrilla, owner of the Lancashire site, it would take six months to begin operations, which is the basis for Truss' claim that fracked gas could be used to power homes and businesses in that time. The requirement for "local support" could, however, delay things considerably, or perhaps permanently.
According to polling company YouGov, public support for fracking has increased in response to the energy crisis, but it still only reached 27% in May. Meanwhile, organised campaign groups opposed to fracking claim they are prepared to take immediate action across the U.K.
Official opposition to fracking is held by the opposition Labour party as well as the devolved administrations of Scotland and Wales. In addition, a large number of members of the ruling Conservative Party are, including Mark Menzies, who represents the Lancashire region that is home to the Cuadrilla complex. He stated that it had been demonstrated without a doubt that the geology here is not suitable in response to the news of the ban's lifting.
Even Finance Minister Kwasi Kwarteng, who is currently in charge of the U.K. economy, recently stated publicly that fracking would not help people cope with rising gas and electricity prices and that it would take a decade to extract sufficient volumes while coming at a heavy price for communities and their precious countryside.
The Division
According to a Warwick Business School analysis from 2020, between 2020 and 2050, the UK's energy consumption from fracked gas might range from 17% to 22%.
The amount of technically and economically feasible shale gas (gas derived from shale formations, the clay-rich areas identified for possible fracking) that is present in the United Kingdom is unknown, according to the London School of Economics. According to a previous study, shale gas production will have a minimal impact on greenhouse gas emissions. Critics contend that the real issue is how to lessen the U.K.'s overall reliance on natural gas, which now supplies 40% of the country's energy needs, and that more should be done to keep polluting fossil fuels on the ground.
Environmental organisations like Friends of the Earth also point to reports warning that fracking could "potentially contaminate" groundwater because of the chemicals used in the process; that it will increase noise and industrial growth in peaceful rural areas; that it uses a lot of water; and that it poses a risk of additional earthquakes with uncertain intensity and power.
If operations resume, Cuadrilla claims the clay on its property is extremely well adapted to fracking and that it will carry out daily seismicity monitoring. Additionally, it states that the Environment Agency has determined that the chemical it employs, polyacrylamide, to make 0.05% of the frack fluid is not dangerous to groundwater.
According to a report that was ordered by the government in April and released on September 22nd, it is still impossible to forecast geological activity as a result of fracking in the United Kingdom with any degree of accuracy. Rees-Mogg said that the government will look to increase the level of seismic activity permitted at fracking sites moving forward. However, the government has reversed its position from 2019 and now claims that more sites need to be drilled to examine further.
Commercial Potential
With shares of onshore oil and gas business Egdon Resources, which is listed on the U.K.'s Alternative Investment Market, up 6.3% on September 22nd and 365% this year, some investors undoubtedly see possibilities for a restart in operations.
Analysts claim that there are still numerous obstacles to overcome, including regulations, environmental issues, and operating difficulties. More than 100 locations have been granted fracking exploration licences, and four primary regions have been identified as potentially feasible for shale gas extraction. However, these places still require political support and approval from a number of regulatory agencies in order to move further.
Tobias Wagner, senior rating officer at Moody's, told CNBC that while the possible financial viability of fracking in the UK may be improved by the current high energy prices, it may be less guaranteed in the long run. Given the doubts and worries, he said, it needs to be seen to what extent firms are willing to spend at scale.
Fracking restrictions still exist in many nations, including Germany (though this is also up for revision), France, the Netherlands, Denmark, Bulgaria, and the Republic of Ireland. This is because of a mix of environmental concerns and logistical challenges.
Beyond the challenges of swaying public opinion, the geology of the United Kingdom is another barrier to fracking, according to a professor at Aberdeen University and its director for energy transition, John Underhill, in an interview with CNBC.
In 2020, he published a study on Cuadrilla's Bowland Shale, concluding that drilling prospects contained fractures in the subsurface that would likely cause seismic activity and that shale gas extraction was technically very problematic.
In contrast to the U.S., where increasing oil and gas fracking has helped achieve energy independence, the geology of the U.K. contains shale horizons that are unbroken by faulting and extend for tens of miles in wide, uninhabited areas. The shale gas reserves will be a small percentage of these amounts due to the low quality of the shale, the lack of overpressure, and the discontinuous character of the shale strata themselves, according to Underhill.
Chris Cornelius, the geologist who founded Cuadrilla and has since left the company, shared a similar viewpoint in the Guardian newspaper. He claimed that technical and economic feasibility and sociopolitical alignment around scale obstacles make him doubtful that the UK will ever experience elevated levels of shale gas extraction.