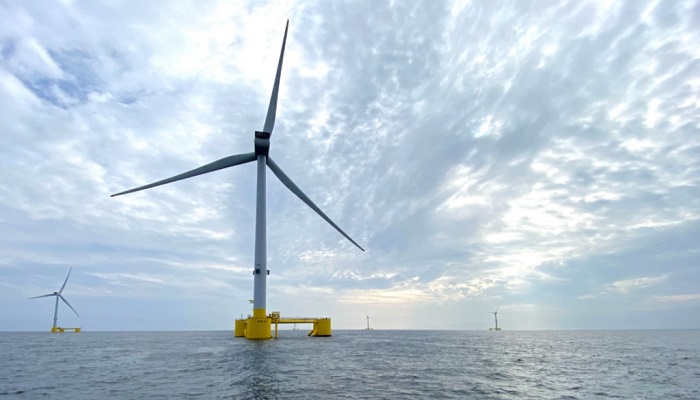 EMEC is attempting to lease a location 20 kilometres west of Orkney, farther from its current tidal energy test facility at Billia Croo.
The test site suggested by EMEC will have 6 terminals for floating offshore wind turbines with rated capacities of up to 20 MW. The location will give floating wind producers that are participating in ScotWind, Celtic Seas, and future leasing rounds representative metocean conditions, with water depths of 80 to 95 metres, strong waves, and a mean windspeed of 10.7 m/s.
The remaining two terminals will be set aside for alternative uses, such as hydrogen generation, while the remaining four of the six berths will be connected to the grid.
The location was created especially for testing floating wind turbines, floating buildings, anchors, and other elements in a dynamic offshore environment. This will make it possible to improve performance on a variety of floating wind systems before they are scaled up and installed commercially.
Floating wind will have a big part to play in their future energy mix, so they are gearing up to help the development of the industry, Neil Kermode, EMEC managing director, said. In addition to building a new test site to allow effective demonstrations before commercial deployments around Scotland, they are considering how they might utilise their current testing infrastructure for testing floating wind subsystems.
Floating wind is still in its infancy, with little global experience in setting up and running technology in high-energy environments. Before a large-scale rollout, developers will have access to EMEC's new demonstration facility, which will offer a highly comparable testing environment to planned project locations. Through testing, businesses will be able to lower the risk of their projects, helping to fulfil technical requirements for due diligence and simplifying and lowering the cost of funding.
They have received a steady stream of inquiries from wind developers looking for a test site to assist them commercialise their ideas, so they know the demand is there. Therefore, this feels like the logical next step in the development of EMEC. They are experienced in managing offshore testing sites for renewable energy, having hosted greater wave and tidal power innovations at EMEC than anyplace else in the world.
They must test these technologies and build their supply chains right away if Scotland is to be prepared for ScotWind.