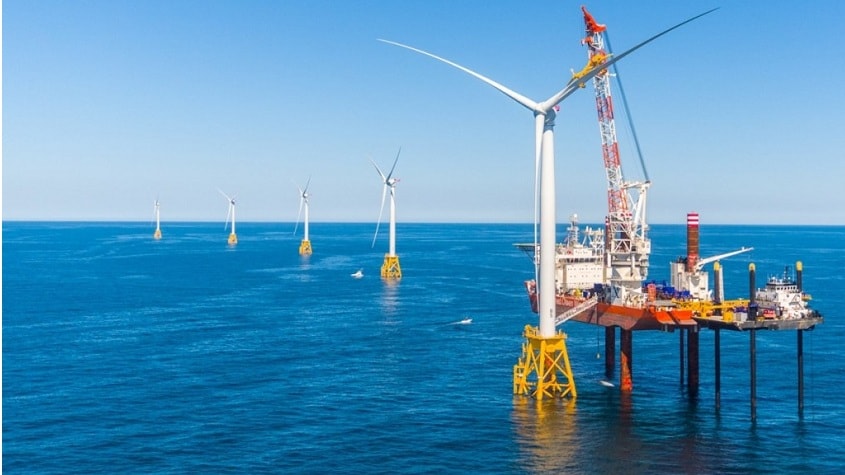 Two recent project announcements indicate that the U.S. offshore wind sector is burgeoning, bolstered by falling prices and ramped-up political support. A credit ratings agency warns, however, that the sector's growth could increasingly pressure profit margins of merchant generators in New England, New York, and New Jersey.
On March 14, Danish offshore giant Ørsted and New England transmission builder Eversource jointly announced their Bay State Wind project became the first and only offshore project to be covered under Title 41 of the Fixing America's Surface Transportation Act, a federal law signed by President Obama in December 2015.
Title 41 of the law (42 U.S.C. § 4370m et seq.), referred to as "FAST-41," created a new governance structure, set of procedures, and funding authorities to improve the federal environmental review and authorization process for covered infrastructure projects, the developers said.
The developers propose to locate the 400-MW to 800-MW project 25 miles off the Massachusetts South Coast, and 15 miles off the coast of Martha's Vineyard. Bay State Wind's participation in the FAST-41 permitting process will not only encourage greater efficiencies and time savings in navigating the federal permitting process, but it will also provide greater confidence that the permitting schedule identified in its bid is reasonable and achievable, the developers said.
Bay State Wind is one of the nation's first utility-scale offshore wind projects, but the speed at which it has progressed is notable. The companies submitted a bid for the project in December 2017 in response to Massachusetts' first request for proposals for offshore wind energy. "Last year we were the first to receive approval of an offshore wind Site Assessment Plan, and our pursuit and recent designation of FAST-41 underscores Bay State Wind's credentials as the most experienced, dependable partner to help Massachusetts realize its ambitions of becoming the hub for offshore wind development in North America," said Ørsted North America President Thomas Brostrøm.
California Floating Offshore Project Buoyed by Selection
On April 3, meanwhile, the Redwood Coast Energy Authority (RCEA)—which is a local government joint powers agency in California—said it selected a consortium of companies comprising Principle Power Inc., EDPR Offshore North America LLC, Aker Solutions Inc., H. T. Harvey & Associates, and Herrera Environmental Consultants Inc. to enter into a public-private partnership to pursue the development of an offshore wind energy project off the northern California coast. The consortium was one of six respondents to a request for qualifications issued by the authority on February 1.
The proposed project is a 100-MW to 150-MW floating offshore project planned about 20 miles off the coast of Eureka that will use Principle Power Inc's WindFloat technology, a floating wind turbine foundation that allows developers access to transitional and deepwater offshore wind sites, opening up new markets and potentially decreasing the cost and risk of offshore wind projects.