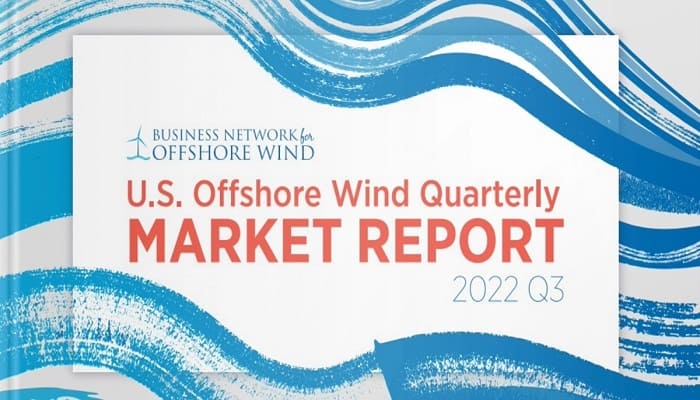 The third quarter of 2022 saw significant federal policies, unprecedented investments, and new state-level initiatives propel the U.S. offshore wind industry ahead. Coastal states increased their long-term goals by 58%, setting a new record for quarterly growth. The Business Network for Offshore Wind, the leading non-profit advancing offshore wind development and creating a strong U.S. supply chain, last week published its first U.S. Offshore Wind Quarterly Market Report. The report analyses the factors causing this historic expansion and gives insight on key market patterns, supply chain and technological advancements, and the major challenges.
The third quarter was among the most significant for the American offshore wind industry, according to the report, and three significant occurrences are described in depth.
The Inflation Reduction Act's (IRA) passing, which authorised $369 billion for new, clean energy spending, including enormous tax subsidies for vital offshore wind manufacturing;
The Biden Administration announced a Floating Offshore Wind Shot initiative and a goal to deploy 15 gigawatts (GW) of offshore wind power by 2035.
Coastal states have also set ambitious new targets, such as California, which declared its organising goal to implement 25 GW of floating offshore wind energy by 2045, and New Jersey, which raised its 2035 objective from 7.5 GW to 11 GW by 2040.
The Business Network for Offshore Wind's president and CEO, Liz Burdock, remarked, their first quarterly results could not arrive at a more interesting moment for offshore wind. The long-held hopes of the American offshore wind sector are ready to become a reality with historic federal investment, fresh backing for floating turbine technology, and increasingly ambitious state-level targets. Despite this phenomenal expansion, the industry still faces difficulties in modernising the grid and transmission infrastructure, establishing a strong local supply chain, and developing a qualified workforce. In order to build on this momentum, the state and federal governments must continue working in concert to implement a comprehensive federal offshore wind industrial plan that prioritises investments throughout ports, manufacturers, and infrastructure.