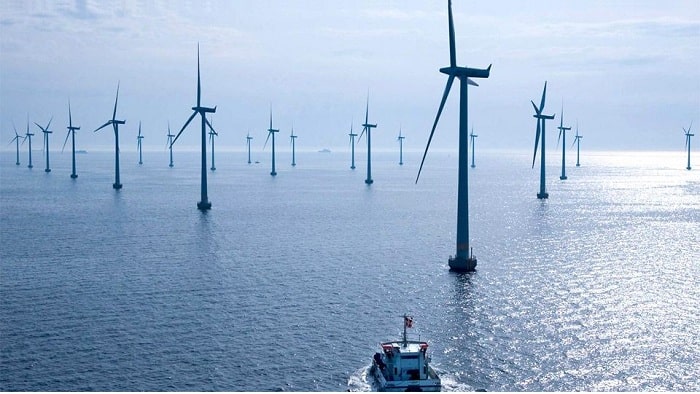 South Korean government announced it was building the world's biggest offshore wind farm, it has now announced a new ambition: to build the world's largest floating offshore wind farm.
According to reports in Hong Kong newspaper The South China Morning Post, the new wind farm will cost $US32 billion ($A40 billion) with a generation capacity of 6 gigawatts. That's about three times the capacity of Australia's largest coal plants.
It adds to the 8 gigawatts of wind capacity announced in February. While that wind farm is planned for South Korea's south west coast, the latest project will be off the coast of the industrial city of Ulsan in the south east of the country.
President Moon Jae-in said the project would be funded by a mixture of public and private finance. He said it would generate enough electricity to power 5.7 million homes and reduce annual greenhouse gas emissions by 9 million tonnes a year.
"Sea winds are like carbonless petroleum in the 21st century. Large scale offshore wind farms will bring us a short cut to achieve carbon neutral and provide us with new growth engines," the SCMP quoted Moon as saying.
Floating offshore wind remains by far the rarest and most expensive form of wind power. However, recent projects including the Hywind project off the coast of Scotland and the Windfloat project off the coast of Portugal show it can be done. A recent report in academic journal Nature Energy predicts floating solar could make up a quarter of all offshore developments by 2035.
While traditional fixed-bottom offshore wind turbines rely on relatively shallow water – up to 50 or 60 metres – floating wind has no such
limitations, massively opening up potential sites. It also means they can be built beyond the horizon from the shore, reducing the risk of complaints.
The massive announcement is further evidence the South Korean government is serious about meeting its goal of net zero by 2050, part of a Green New Deal that also promises to phase out coal and build 16 gigawatts of new wind capacity.
At US President Joe Biden's leaders climate summit last month, President Moon Jae-in also announced his country would end all funding of overseas coal projects – a big move as South Korea has until now been a lifeline for coal mining companies that couldn't secure funding or insurance in other markets.
But despite South Korea's promises, the country remains extremely dependent on coal and gas. Renewables generated just 5 per cent of the country's electricity in 2019, with wind and solar contributing less than 3 per cent. Its carbon emissions continue to rise, and are currently more than two and a half times what they were in 1990.
South Korea plans to shut down 30 coal fired power stations by 2034, 24 of which would be turned into gas plants. It also plans to increase its renewable capacity to 42 per cent of total generation capacity by 2034.