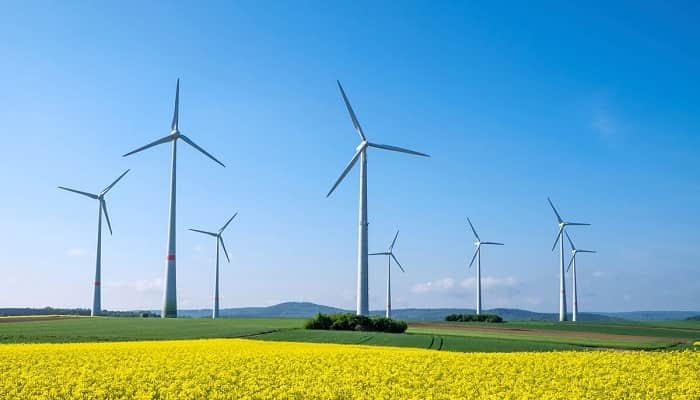 As per annual Supply Side Data provided by the Global Wind Energy Council-GWEC, wind turbine suppliers delivered a new record amount of volume in 2022. Despite continuous disruptions due to COVID-19, rising commodity prices, and logistical issues, 30 wind turbine makers erected 104.7 GW of additional wind generating capacity in 2021, as per the research.
Regardless of the fact that turbine makers produced a record-breaking number of projects in 2021, financial performance has deteriorated due to an ultra-competitive price market, rising external costs, and ongoing bottlenecks that are hindering a quicker expansion of wind energy.
According to the International Energy Agency- IEA, the world needs to install roughly 390 GW of wind energy by 2030 to stay on pace to limit global warming to 1.5 degrees Celsius. According to the GWEC's Global Wind Report 2022, installations must quadruple by 2030 to keep the world on track to meet that goal. These figures are only possible with public backing for a market that produces clean energy, creates clean jobs, and operates in a fossil-free financial system.
Ben Backwell, CEO of GWEC said that this current record in installations is a testament to the critical role that wind energy plays in driving the energy revolution and protecting citizens and countries from high energy costs caused by fossil fuel volatility. Nevertheless, as the UN Secretary-General stated recently, governments must act swiftly to accelerate the transition to renewable energy and break down barriers to implementation and investment, including cutting red tape and bureaucracy, expediting grid investments, and making sure that markets adequately remunerate green energy rather than subsidising fossil fuels.
The fact that wind turbine makers are struggling to earn profits does not put the world in a good position to scale up investment and reach the necessary level of installations by the end of this decade, which is 390GW per year. It's worth noting that 30 wind turbine manufacturers installed 29,234 wind turbines worldwide in 2021, with 18 representing Asia-Pacific and 9 in Europe.
Vestas had a record year, supplying 17.7% of new turbine installations to maintain its position as the leading turbine manufacturer. Goldwind of China came in second with 11.8%, maintaining its place from 2020, while Siemens Gamesa had a record year with a 9.7% global market share, moving up two spots to third in 2021. Envision, another Chinese firm, ranks fourth with 8.65% of the market in 2021. With 8.55%, GE Renewable Energy closes out the top five.Vestas and Siemens Gamesa had record years, delivering to 37 and 32 nations, respectively. GE serviced 22 countries in 2021, while Goldwind and Envision hit 7 and 3 markets, respectively.
Wind turbine rating as well as rotor diameter continue to increase. The median capacitance value of new turbines installed in 2021 exceeded 3,500 kW, and more than 58% had rotors larger than 140 m. This is partly owing to the wind sector's having a record year for new offshore wind installations, while China's onshore wind market entered the grid-parity period in 2021, resulting in larger onshore wind turbines being constructed.
According to the study, medium-speed wind turbines are becoming more popular, with their global market share rising to 9.7% in 2021, up 3.6% from 2020. Goldwind, the world's biggest direct drive wind turbine supplier, and Sewind, China's leading offshore wind power supplier, each installed the commercial medium-speed turbines for the first time in 2021, confirming Mingyang and Vestas as critical drivers in this turbine powertrain solution.
With 50% of the market share in 2021, the double-fed induction generator (DFIG) will continue to be the most popular solution, followed by subsequent drive permanent magnet generator (DD PMG), squirrel cage induction generator (SCIG), and medium-speed PMG. More than 100 GW of wind energy capacity was mechanically built in 2021, making it a great year in global wind history and showcasing the tremendous endurance of the renewable energy industry and global supply chain, said Feng Zhao, GWEC's Head- Strategy and Market Intelligence. The number of turbine providers fell from 35 in 2020 to 30 in 2021, indicating more market consolidation on the supply side. However, the top six wind turbine OEMs shed 3% market share in 2021, while Tier 2 and Tier 3 Chinese turbine OEMs acquired market share during the Chinese installation rush. Last year, China accounted for ten of the top 15 global wind turbine suppliers last year, although only two Chinese firms made the top five, a repeat of last year's top 15.
However, Chinese vendors ruled the offshore wind ranks last year, with Siemens Gamesa and Vestas sliding out of the top three for the first time. In comparison to 2020, the volume of Chinese turbines shipped nearly tripled in 2021, but the Chinese OEMs' share of the market outside China remains tiny, says Zhao.