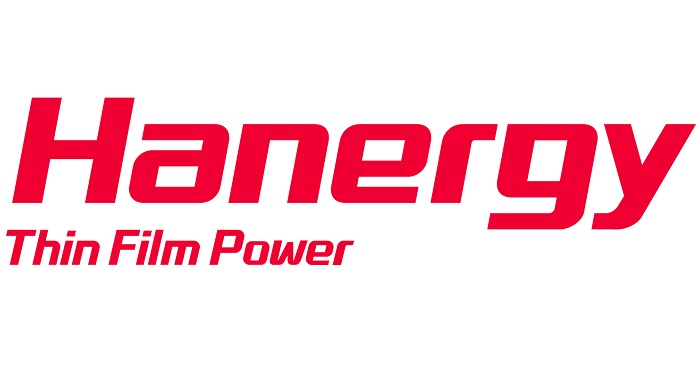 The multinational clean energy company, Hanergy Thin Film Power Group announced that it has been certified as 'Sustainable Product Supplier' besides its innovative thin-film solar tile product, Single-glass Triple-arch HanTile, has been recognized as 'Sustainable Product'under the 'Fostering Sustainable Consumption for Hong Kong Business and Community'programme organized by Business Environment Council Ltd. (BEC).
Business Environment Council (BEC) is an independent charitable membership organization headquartered in Hong Kong. Funded by the Sustainable Development Fund, 'Fostering Sustainable Consumption for Hong Kong Business and Community' programme aims to promote sustainable consumption and drive behavioral changes in Hong Kong. It gives certifications to enterprises, products and the services that are environment friendly, energy efficient and excel at facilitating sustainability and improving daily environmental performance.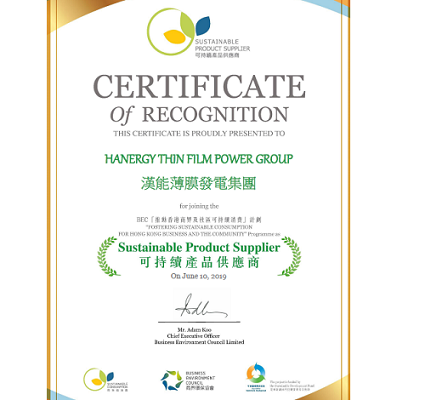 Joining the league of renowned companies such as Canon, Konica Minolta and Fuji Xerox, which have been cited earlier as 'Sustainable Product Supplier', Hanergy's recognition this year is the testimony of the company's stellar work in sustainable energy sector as well as its perseverance to provide green solutions to the consumers around the globe.
The company's solar cells set the world record for conversion efficiency several times, with the newest one being 29.1% for its single-junction GaAs cells. It launched and upgraded a handful of consumer products at CES Asia 2019, including Humbrella, the solar-powered parasol; HanPack, the solar backpack; HanPower, a portable solar power-bank product, retaining its leading position in the mobile energy sector.
HanTile, which is recognized as a Sustainable Product, was first introduced by Hanergy in 2017, with an upgrade of new generation in 2018. Incorporated with high-efficient thin-film solar chips, HanTile can convert sunlight into electricity and replace traditional tiles as a part of energy saving building materials.According to laboratory research, installation of every 100 square meter HanTile on a house can help reduce emissions of 322 tons of carbon dioxide, 1045 kilograms of sulfur dioxide, and 910 kilograms of nitrogen oxides within 30 years, which is equivalent to the environmental benefits of planting 340 trees.Additionally, HanTile's lifespan is 2 to 3 times of the traditional roofing materials' lifespan of 20 years, making it both economically and socially beneficial, as it reduces the amount of waste in overall.
Commenting on the company's achievement, Mr. Zhang Bin, Executive Director and Senior Vice President of Hanergy Thin Film Power Group, said, "It's an honor for us to be recognized as 'Sustainable Product Supplier' by Hong Kong Business Environment Council. Aligned with our mission and belief of 'changing the world with thin-film technology', we are proud to be at the forefront of creating sustainable energy products and contribute towards the making of a greener world. Sustainability is something we've always stuck to, and we will continue to work in the direction to introduce top-of-the-line solutions for our customers worldwide."
Furthermore, the information and the details pertaining to Hanergy and its product HanTile have been listed on the online directory of sustainable products and services, which BEC sets up to ensure the promotion of sustainable products and encourage consumers to give preference to the products it certifies over other options in the market. The company claims that the recognition will help HanTile and other products from Hanergy make a stronger presence in the environmentally keen markets.
The company also recently bagged the illustrious Asian Photovoltaic Industry Association (APVIA) Award 2019 for its exceptional contribution to the photovoltaic industry and being at the forefront of technological advancements.
About Hanergy Thin Film Power Group Ltd:
Hanergy Thin Film Power Group Ltd is a multinational clean energy company, and a subsidiary of Hanergy Mobile Energy Group Company Ltd. As one of the leading thin-film solar companies in the world, Hanergy Thin Film Power Group Ltd is committed to "Building Mobile Energy". Since 2009, Hanergy has been working relentlessly to integrate worldwide solar technologies, and making a robust investment in research and innovation in the field of thin-film solar power. Thin film solar technologies have been applied to a series of commercial and non-commercial products, including HanTile, HanWall, Humbrella, HanPack and HanPower.
Visit Hanergy's official website to find out more or follow Hanergy on Facebook, Twitter, LinkedIn, YouTube for the latest news and updates.