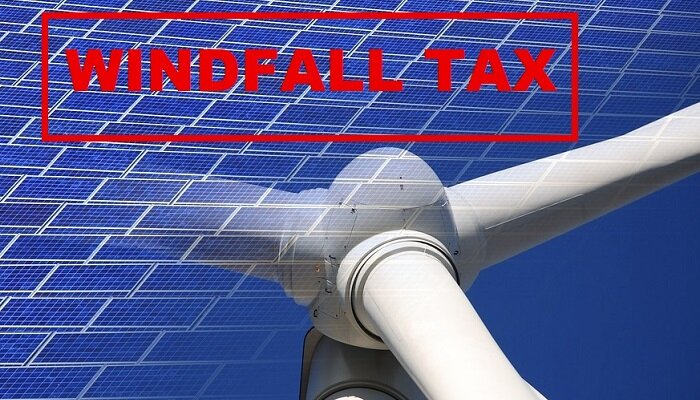 UK renewable energy producers will be subject to a 45% windfall tax starting in the new year. Chancellor Jeremy Hunt announced the "temporary" measure on November 17th in the Autumn Statement. It will last until 2028.
According to Treasury documents, the Power Generator Levy, which would be applicable to some renewable, nuclear, and biomass electricity generators, will be a new 45% tax on exceptional revenues over a pre-crisis price baseline of £75/MWh.
Projects covered by the Contracts for Difference (CfD) regime will be excluded, and a tiny "de minimis" will be included to omit small generators. The government maintained that because the tax only applies to a portion of windfall profits and generators will still be able to deduct their investments from corporation tax, it is not likely to damage long term investment.
Industry associations, however, have criticised the baffling policies that run the danger of weakening investor trust in the UK market.
The structure of the UK energy market provides windfall profits for low-carbon electricity generating, therefore from 1 January it has been decided to put a new temporary 45% charge on electricity generators, Hunt said in a statement to the UK parliament. In addition to the Energy Profits Levy, which was hiked today from 25% to 35% and was imposed on oil and gas corporations earlier this year, he said that the policy will raise £14 billion for the Treasury next year.
The action is part of a larger package of financial measures unveiled today by the head of the Treasury, who outlined his plan to fix the UK's public finance problems by implementing a series of spending reductions and tax increases.
Former Prime Minister Liz Truss's proposals to cap the profits of renewable producers starting in 2023—known as the cost-plus-revenue limit—have been modified by the choice to implement a windfall tax. The new fee will give generators a bigger share of their profits to spend on developing the UK's renewable energy capacity, the government claims, and is a more appropriate method that can be implemented through the corporate tax system.
Hunt claimed that the Conservative administration still views energy as a growth priority despite the attack on the profits of renewable energy producers.
Energy independence and energy efficiency are the only ways to prevent them from being at the whim of fluctuating gas prices in the long run, he continued. Britain is a worldwide pioneer in renewable energy, but they need to go even further with a big acceleration of domestic technologies like offshore wind, CCS, and most importantly, nuclear.
In addition to announcing a £6 billion energy-saving programme for homes and companies beginning in 2025, he said that the government will move forward with proposals for the Sizewell C nuclear facility in Suffolk. In due course, more information on this plan and how the government will increase energy independence is anticipated from the Department of Business, Energy, and Industrial Strategy.