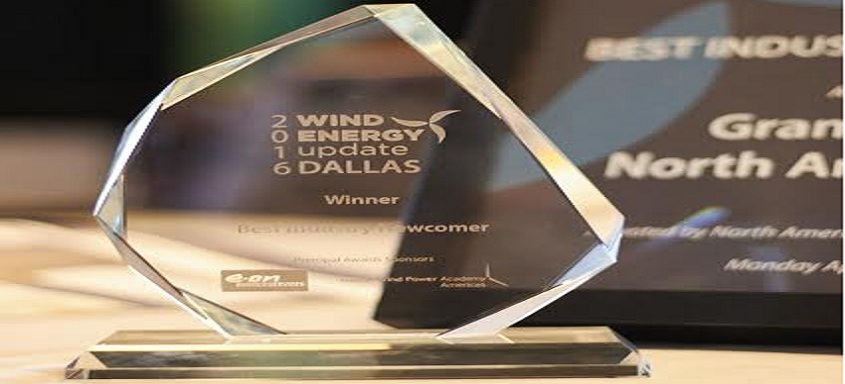 Now is the time toplay your part in recognizing theexceptional work being done in the wind industry by nominating outstanding individuals, companies and innovations for the prestigious E.ON-sponsored Wind O&M Dallas 2017 Awards.
The awards will be held in Dallas, Texason 10 April 2017 as part of the world leading 9th Annual Wind O&M Dallas 2017 Conference& Exhibition.
"The true value of these awards is that they showcase exceptional achievement at all levels: at individual, team and product level. We're very excited to be shining a light on brilliant performance and the stories behind them which will change the way we perform and excel at O&M in the future," says Kerr Jeferies, Project Director at Wind Energy Update.
These awards are recognition by the industry, for the industry, for those who optimize value, drive standards up and go the extra mile.
"We're proud to continue our association with one of the annual highlights in the wind O&M calendar and look forward to identifying outstanding successes and achievements over the past year," said Keith Day, President, E.ON Energy Services. "E.ON is particularly excited about the new award categories at this year's Wind O&M Dallas."
The closing date for awards nominationsis February 24, 2017,so don't delay. It couldn't be easier. Go to the dedicated awards website to make your nomination by clicking on the category of your choice and makeyour nomination by filling in the web form, or copying text into the web form fields. It shouldn't take you more than 10 minutes!
Brand new trophies and awards up for grabs are for the following categories:
Best Example of O&M 2017
Wind Farm Technician or Team of the Year
Wind Small Vendor of the Year 2017
Best Technological Innovation of the year 2017
Most exciting Industry Newcomer
TheWind O&M Awards started two years ago and in2016 awards saw more than100 entries from around the world, with worthy winners crowned most 'innovative and value-driven' in front of 200 peers.
The rewards – even just for being nominated – include major publicity and industry-wide coverage.
Winners' and finalists' get substantial coverage as their names are shared with the industry ahead of the conference, as well as with Wind Energy Updates'51,000+ subscribers and key conference partners. They also get media attention and networking opportunities with the biggest names in the global wind industry at the awards ceremony.
Those who win awards receive media attention during and after the event, including mentions and interviews in the post conference write ups. Focused editorial coverage from Wind Energy Update year-round will cover the development of winning technologies, case studies, strategies, best practice or innovation.
"You have to be in it to win it" says Keith Day, so make sure you make a nomination now before the deadlineends on Friday, Feb 24, 2017.
Nominations & Awards Details can be found at: https://goo.gl/MMDDxe